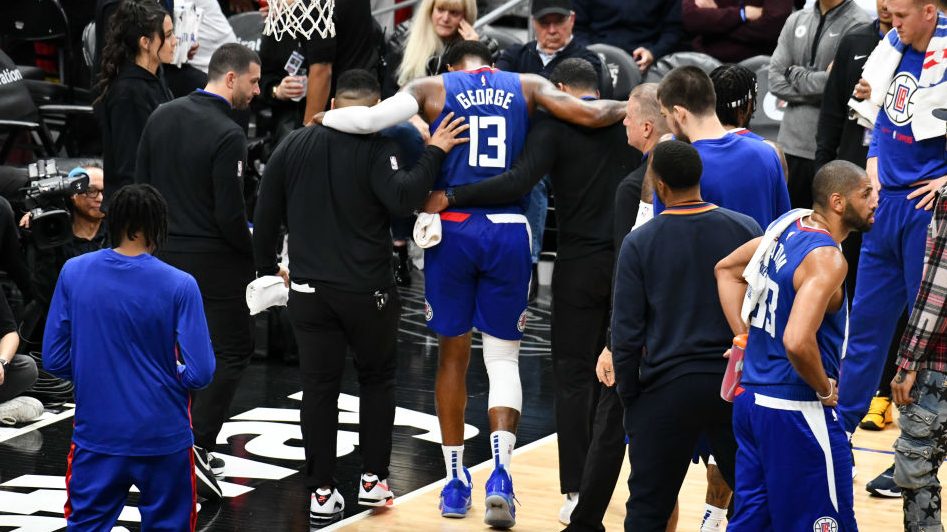 As the NBA playoffs approach, the LA Clippers find themselves in a precarious situation. All-Star forward Paul George's knee injury may keep him out until at least the second round of the playoffs, leaving the team to navigate the postseason without one of their key players. With George's impressive stats of 23.8 points, 6.1 rebounds, and 5.1 assists per game, his absence will certainly be felt by the Clippers.
Currently sitting in fifth place with a 40-36 record, the Clippers are closely followed by the Minnesota Timberwolves, Golden State Warriors, and New Orleans Pelicans. As the regular season winds down, a challenging stretch could push the Clippers into the play-in tournament, complicating their road to playoff success.
Facing the Odds: Clippers' Possible Playoff Scenarios Should the playoffs begin today, the Clippers would be matched up against the Phoenix Suns, a formidable opponent with Kevin Durant slated to return from injury. Taking on the Suns without the talents of Paul George could prove to be a herculean task for the Clippers.
The Clippers may find a more favorable outcome by targeting the sixth seed, which would help them avoid the play-in tournament and give them a better first-round matchup. The Sacramento Kings, while impressive this season, lack the playoff experience that might make them a more approachable opponent for the Clippers.
Kawhi Leonard and the Team's Response
In the absence of Paul George, the Clippers will need to rely heavily on Kawhi Leonard to lead the charge during the playoffs. Leonard, along with the rest of the team, must step up and fill the void left by George's injury. The team's ability to adapt and execute under pressure will be crucial to their playoff success.
The LA Clippers' playoff hopes will be determined by their performance in the remaining regular-season games and their ability to overcome the challenges posed by Paul George's injury. As fans and analysts alike eagerly watch, the Clippers must prove that they have what it takes to make a deep playoff run even without their star player.