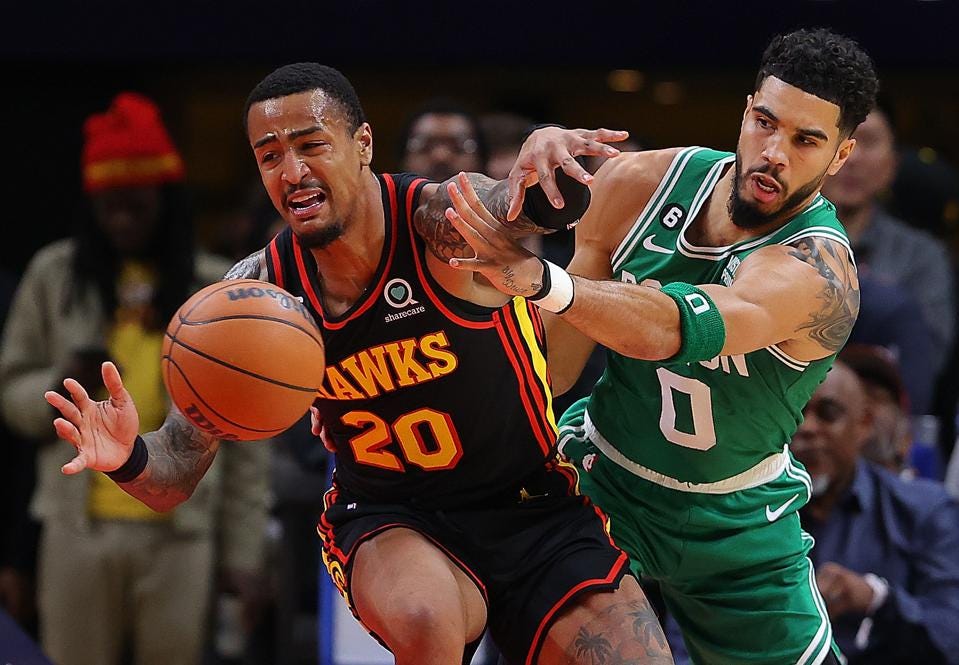 The Boston Celtics, holding the second seed in the Eastern Conference, are set to face off against the seventh-seeded Atlanta Hawks in a thrilling first-round matchup of the 2023 NBA playoffs. The Celtics previously emerged victorious in their last first-round playoff meeting with the Hawks in 2016.
Despite a scandal involving head coach Ime Udoka and an unexpected replacement with 34-year-old assistant Joe Mazzulla, the Celtics managed to secure an impressive 57-25 record. Key contributors included early MVP favorite Jayson Tatum, Jaylen Brown, and a group of exceptional 3-point shooters like Malcolm Brogdon, Grant Williams, Al Horford, Sam Hauser, and Derrick White. The Celtics concluded the regular season with the NBA's second-best rating on both ends of the floor and the league's top margin of victory.
On the other side, the Atlanta Hawks finished with a 41-41 record and a 0.1 net rating. Their season was marked by a top-10 offense and a bottom-10 defense, as well as a trade to pair defensive-minded point guard Dejounte Murray with high-usage point guard Trae Young in the backcourt. Despite internal tensions and coaching changes, the Hawks managed to secure a spot in the playoffs after a decisive play-in game victory against the Miami Heat.
In the regular season, the Celtics swept their series with the Hawks, winning all three games. The Celtics' most commonly used starting lineup, featuring Marcus Smart, White, Brown, Tatum, and Horford, has outscored opponents by 12.2 points per 100 possessions this season. Sixth Man of the Year candidate Brogdon serves as a luxury backup for Smart or White when needed.
The Hawks, meanwhile, have several lineup options for closing games. Young and Murray are the only guaranteed starters, with Bogdan Bogdanović, De'Andre Hunter, and/or Onyeka Okongwu potentially replacing Saddiq Bey, John Collins, and/or Clint Capela based on coach Quin Snyder's judgment.
A key matchup to watch in this series will be the Celtics' defensive effort against Trae Young. The Celtics have multiple defenders, including Smart, White, Brogdon, Brown, and Tatum, who can challenge Young on both ends of the floor. Young's ability to trust and support his teammates will play a critical role in the outcome of the series.
Both Jayson Tatum and Jaylen Brown will be available for Game 1, boosting the Celtics' chances of starting the series on a high note. The Celtics hold a 10-2 record against the Hawks in postseason history and have yet to lose a series against an Atlanta team. However, the Hawks will be determined to break that record and prove themselves as a formidable force in the Eastern Conference.