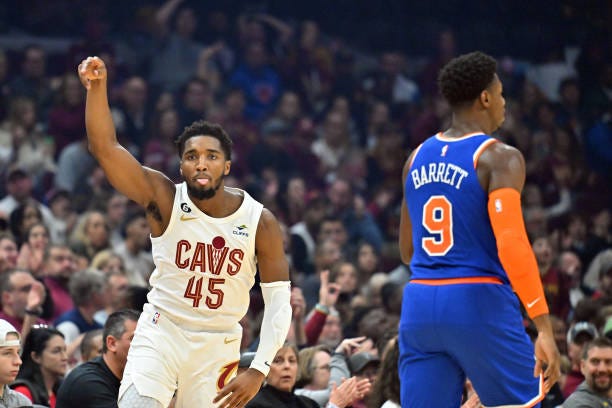 As the excitement builds in downtown Cleveland, the city is buzzing with anticipation for the Cavaliers-Knicks playoff series opener. Local residents are eager for revenge after recent sporting defeats at the hands of New York teams, and the atmosphere is electric ahead of the showdown at Rocket Mortgage FieldHouse.
Cleveland is rallying around its basketball team for the first time since LeBron James led them to a championship. Although the Bucks, Celtics, and 76ers are considered the Big 3 in the East, the Cavaliers are hot on their heels, ready to make one of the top teams sweat.
The Knicks, however, are not to be underestimated. Having earned praise throughout the season for their grit and team chemistry, they're looking to make a statement in the playoffs. Coach Tom Thibodeau emphasizes the importance of defense, rebounding, and teamwork, asserting that they need to "play tough, play smart, and play together."
With Julius Randle's potential return from injury, the Knicks could be a force to be reckoned with. Randle has been a key player for the team, averaging 25.1 points, 10.0 rebounds, and 4.1 assists this season. His return, along with the talents of Jalen Brunson and the rest of the Knicks roster, could provide the necessary firepower to challenge Cleveland.
The Cavaliers boast a formidable lineup, including Donovan Mitchell, Darius Garland, and rising star Evan Mobley. The team's impressive performance throughout the season has Cleveland fans hopeful for a deep playoff run. However, the Knicks have proven their ability to overcome elite teams and are ready for the challenge.
As the series begins, both teams will need to rely on their depth and resilience to gain an edge. With Cleveland seeking redemption and New York eager to make its mark, the stage is set for a thrilling playoff battle.