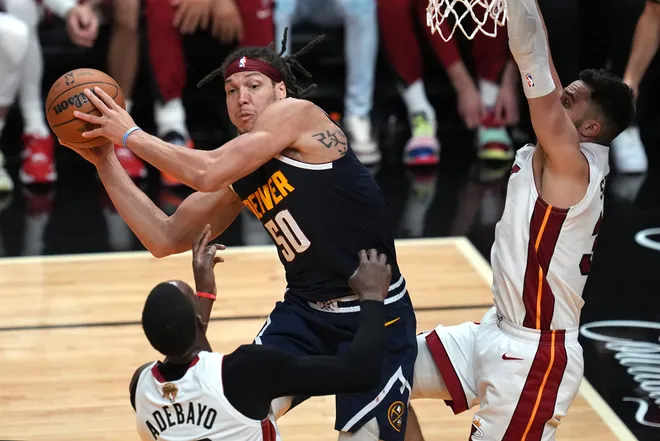 In the high-stakes world of the NBA Finals, it's often the unsung heroes who make the difference. For the Denver Nuggets, that hero is none other than Aaron Gordon. His playoff career-high 27 points, seven rebounds, and six assists in Game 4 have put the Nuggets on the brink of their first NBA championship.
Gordon's performance has been a testament to his versatility and adaptability. He has seamlessly integrated into the Nuggets' system, finding his rhythm and making significant contributions when it matters most. His ability to exploit size mismatches against the Miami Heat has been a key factor in the Nuggets' success.
"Aaron did it all for us tonight. He really did," Denver coach Michael Malone said. "We've seen that now in four games in the Finals where Aaron has had moments where he has carried us offensively."
Gordon's impact extends beyond scoring. His defensive prowess has been equally crucial. He has taken on the grueling assignment of defending some of the league's top players, including Minnesota's Karl-Anthony Towns, Phoenix's Kevin Durant, Los Angeles Lakers' LeBron James, and Miami's Jimmy Butler.
"I felt like I was going to be a defender for this team, a defenseman for this team," Gordon said. "I knew they could score… I knew I was coming in to play defense and make their job easy."
Gordon's selfless play and commitment to the team have not gone unnoticed. His teammates appreciate his contributions, both on and off the court. "He's a dog. He's strong. He's physical. He's tough. He's chill. He brings everybody together off the court, and he's a selfless player," said Jamal Murray.
Gordon's performance in the Finals, averaging 16.5 points, 7.4 rebounds, 3.5 assists, and shooting 66.7% from the field and 71.4% on 3-pointers, underscores his crucial role in the Nuggets' success. While he may not win the MVP, the Nuggets' potential title win would be incomplete without his contributions.