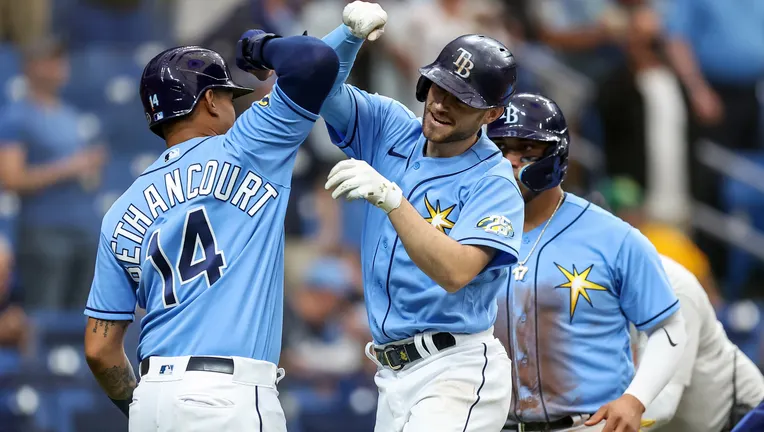 The Tampa Bay Rays have made history by tying the MLB modern era record for the longest winning streak to start a season. Following a 9-3 victory against the Boston Red Sox, the Rays have now won 13 consecutive games, matching the 1982 Atlanta Braves and the 1987 Milwaukee Brewers. The only team to have a longer streak at the start of a season was the 1884 St. Louis Maroons, who managed 20 consecutive wins before losing.
This historic win also sets a new franchise record for the Rays, surpassing their previous 12-game winning streak from 2004. The team has not only been winning games but dominating their opponents, boasting an impressive 101-30 run differential, the third-largest in MLB history through the first 13 games of a season and the largest in the modern era.
Eleven of their 13 wins have come with at least a four-run margin. Moreover, they have trailed after just six of the 117 innings they've played, tying the 1884 New York Gothams for the second-lowest total in MLB history.
The decisive victory against the Red Sox was marked by a seven-run rally in the fifth inning, with the Rays sending 11 batters to the plate. This incredible comeback was ignited by Harold Ramírez's double against Corey Kluber, followed by a series of walks, RBI singles, and a perfectly placed bunt single from pinch-hitter Manuel Margot. Ramírez finished the rally with another double, effectively sealing the win for Tampa Bay.
The Rays' historic streak has also had a significant impact on ratings. The team's streaming audience on the Bally Sports app and Bally Sports+ has surged over 125% compared to last season's average. Local viewership on Bally Sports Sun has seen a 26% increase, with recent games against the Red Sox drawing more viewers than any Rays game last season.
Next, the Rays will face the Toronto Blue Jays in a weekend series, presenting a challenge to their winning streak. Tampa Bay will start Drew Rasmussen (2-0, 0.00 ERA), while the Blue Jays will counter with José Berríos, who has struggled this season with an 11.17 ERA.
Despite the loss, the Red Sox have now lost 13 consecutive games at Tropicana Field. The Rays' relentless lineup and impressive performance have firmly placed them in MLB history, and fans are eager to see if they can extend their record-breaking winning streak further.