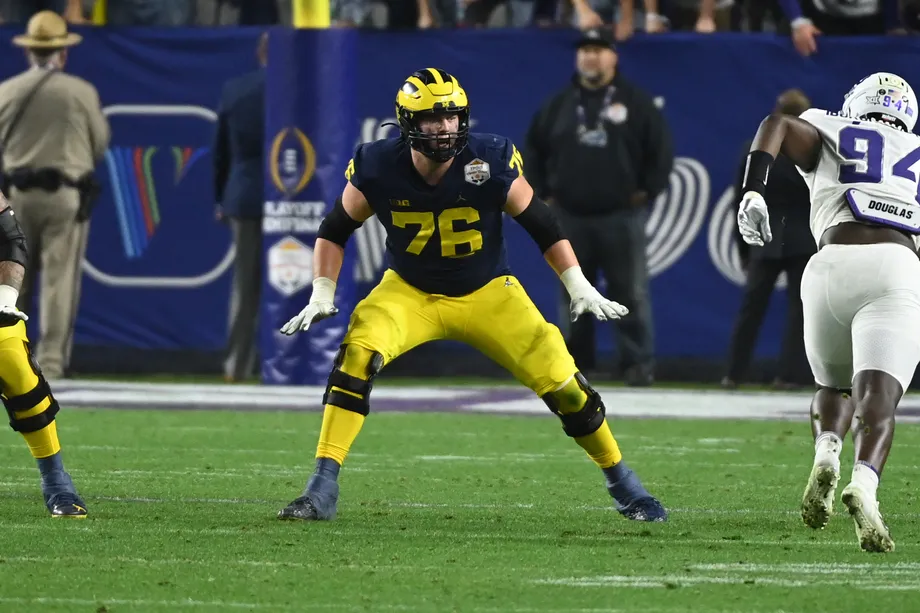 The Michigan Wolverines' 2024 recruiting class is taking shape with the addition of Andrew Sprague, a highly sought-after four-star offensive lineman from Kansas City. Sprague, who stands at 6-foot-8 and weighs 290 pounds, opted for Michigan over multiple offers from prestigious football programs, including USC, Notre Dame, LSU, Oklahoma, Oregon, Penn State, Ole Miss, Wisconsin, Stanford, and others.
Sprague's commitment to the Wolverines is expected to strengthen the team's offensive line, with him likely taking on the role of left tackle in the future. The 2024 class also boasts commitments from four-star Luke Hamilton and three-star Ben Roebuck, both of whom are projected to play on the offensive line. Sherrone Moore, the Wolverines' offensive coordinator, has been instrumental in building this impressive lineup of prospects, but there are still more targets to be recruited.
Michigan's recruiting efforts are now likely to focus on Blake Frazier, Max Anderson, Michael Uini, Brandon Baker, Bennett Warren, Caleb Brewer, Waltclaire Flynn Jr., Jake Guarnera, and Kyle Altuner. Frazier, a Michigan legacy hailing from Austin, Texas, is widely regarded as the next most likely prospect to commit. Anderson, a 6-foot-5, 300-pound lineman from Frisco, Texas, is also a strong contender, with the Wolverines currently favored to secure his commitment.
The Wolverines' 2024 class, currently ranked No. 2 on 247Sports' composite rankings, is shaping up to be a formidable force. With Sprague's commitment, the team now has three offensive linemen in the mix. Furthermore, the Wolverines have recently added commitments from five-star quarterback Jadyn Davis, four-star running back Jordan Marshall, and three-star offensive lineman Ben Roebuck.
With several offensive line targets still on the board, the Wolverines could potentially take as many as six offensive linemen for their 2024 class. The team's priority is to find a talented guard and center to pair with Hamilton and the other recruits. Among the prospects, Frazier and Anderson appear to be the most likely options, but this is subject to change as the class progresses.
As spots fill up quickly, it's expected that the Wolverines' offensive line class will become clearer in the coming weeks. With the commitment of Sprague, the team has secured a bona fide left tackle, an essential piece to the puzzle in the 2024 recruiting cycle.