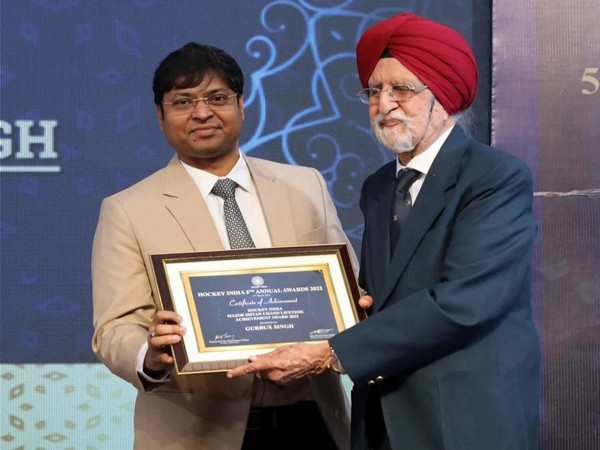 Indian hockey legend Gurbux Singh expressed his deep appreciation and gratitude for receiving the prestigious Hockey India Major Dhyan Chand Lifetime Achievement Award at the 5th Hockey India Annual Awards 2022 held in New Delhi last month. At 88, the two-time Olympic medalist has devoted 65 years to the sport and considers this award as one of the most meaningful moments in his career.
Gurbux Singh has held various roles in the world of hockey, including player, coach, international hockey umpire, manager, and secretary of the Bengal Hockey Association for 18 years. His illustrious career has seen him win numerous accolades, including Gold at the 1964 Tokyo Olympics, Bronze at the 1968 Mexico Olympics, and an Asian Games Gold. He has also been conferred with the Arjuna Award for his contributions to hockey.
Speaking about the significance of the Major Dhyan Chand Lifetime Achievement Award, Singh said, "Olympic Gold medal, Asian Games Gold medal, they are the best and whatever an athlete can achieve in their life, but when you are recognized for what you have done, by your own fraternity Hockey India, that's the ultimate thing."
Singh was visibly emotional when he received the award and admitted that he was almost choked up while speaking on the podium. He believes that the recognition from Hockey India deserves to be highly valued, as it represents the appreciation of his life's work from his own community.
Hockey India has recently undertaken various initiatives to enhance the sport's profile in the domestic circuit, such as the Grassroots Development Program, Player of The Match Award for each match, and streaming partnership for National Championships. Singh praised these efforts, calling them a "step in the right direction."
Reflecting on the importance of state-level rivalry when he used to play, Singh believes that National Championships are crucial for the growth of the sport. He also expressed optimism about the future of Indian hockey, saying, "I've also heard the Hockey India President talk about making the grassroots stronger, and I think he is on the right track and I am sure Hockey India will be able to do that."