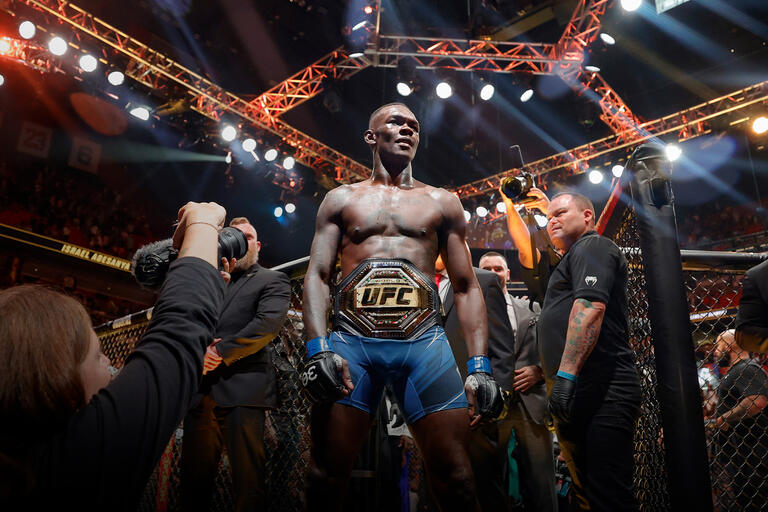 In a remarkable display of skill and determination, Israel Adesanya avenged his past losses to Alex Pereira with a stunning knockout victory at UFC 287. Adesanya's coach, Eugene Bareman, recently appeared on The MMA Hour to discuss the events leading up to the fight, including a walkout that had the coaching team wondering if something was amiss with "The Last Stylebender."
Adesanya's uncharacteristic walkout saw him interacting with the crowd and training partners, a departure from his usual pre-fight routine. This prompted concern from Bareman and his team, leading to a crucial eye-to-eye exchange with Adesanya, in which he reminded the fighter to stay calm.
Despite the initial worry, Adesanya's newfound calmness and strategic shift ultimately led to a triumphant win. Bareman revealed that they had worked diligently to mitigate risks during the fight, putting Adesanya in more dangerous positions to take advantage of Pereira's weaknesses. This approach, however, had to be carefully balanced with Adesanya's need to remain cool, calm, and collected in the heat of battle.
In a display of masterful coaching, Bareman whispered "You're a mastermind. Remember, you're a mastermind" to Adesanya as the fighters were announced in the cage. This reminder proved crucial in ensuring Adesanya's focus on intelligence and strategy over brute force during the fight.
Adesanya's victory did not come easily, with the first round narrowly going in his favor. However, it was in the second round when Adesanya seized the opportunity to deliver two hammer right hands, knocking Pereira out and claiming the long-awaited win.
Reflecting on the journey, Bareman shared the emotions that he and Adesanya experienced after the fight: a combination of happiness and relief, coupled with a feeling of weightlessness. After years of rivalry and multiple losses to Pereira, Adesanya's triumph at UFC 287 marked the culmination of a hard-fought journey to redemption.