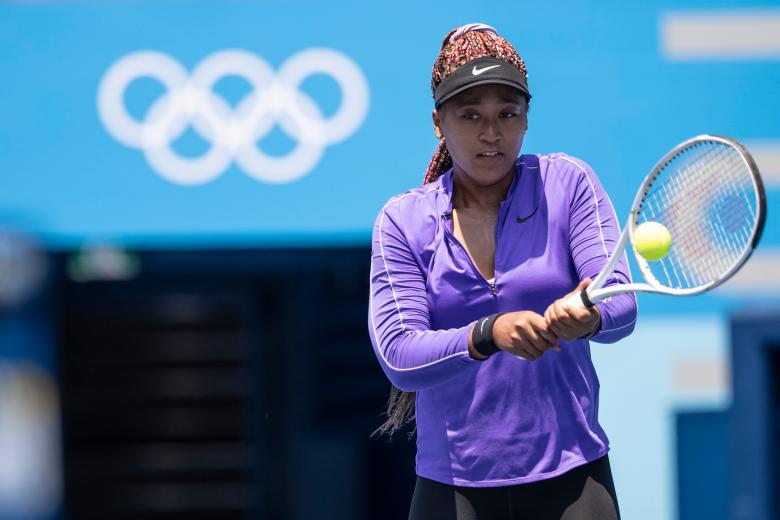 The fact that Naomi Osaka is a top contender for the gold medal isn't the only reason she's in focus in Tokyo. It is the tennis star's first appearance since retiring from Paris when she made her depression public.
Her bench, Naomi Osaka, had moved behind the referee's chair for a bit of shade. However, she was unable to prepare for her Olympic premiere completely unobserved. Several photographers and cameramen recorded the top star training on Center Court on Thursday – with the words "Tokyo 2020" on the back. Osaka left the court in the Ariake Tennis Park when Alexander Zverev just entered it for his unit with world number one Novak Djokovic.
The games in her native Japan will be her first appearance since she made it public that she was suffering from depression. Osaka should become one of the faces of this world event. In any case, the Olympic debut of one of the world's richest female athletes in Tokyo would have been a big topic of conversation. After her sensational withdrawal from the French Open in Paris, her performance has become even more extraordinary. The next few days could give an initial answer to how things are going with Osaka.
"It's okay not to be okay," she recently wrote in a recent article in Time Magazine. Almost two months ago, the four-time Grand Slam tournament winner announced that she had been struggling with long periods of depression for several years. She had received great sympathy and sparked a debate about how to deal with mental health in top-class sport. Osaka had renounced Wimbledon and wants to be ready for the Olympic Games.
Praise from Djokovic: "A great champion"
The question of whether she will compete should have been finally settled with the draw on Thursday. The number two in the world rankings and top contender for the coveted individual gold begins her way at the Olympic tournament that begins on Saturday against the Chinese Zheng Saisai. She is the daughter of a Japanese woman and a Haitian. She was once born in Osaka. When she was three years old, her parents moved to the United States with her. Now she competes for Japan in Tokyo. How will she deal with her role, which is widely recognized – despite the empty spectator stands?
The Serbian world number one Novak Djokovic said that he knew that Osaka as a Japanese hope bears a great responsibility and a great burden on her shoulders: "I do not think that it will cause her many problems," said the Wimbledon winner, even if it is not ideal for Osaka be that no audience is allowed: "She is a great champion."
The restrictions on journalists should make it easier for Osaka to deal with the media. At the French Open in Paris, the Australian Open and US Open winner decided not to attend any media appointments. When she stayed away from the press conference after her first-round win, she was fined $ 15,000. The organizers threatened to be banned.