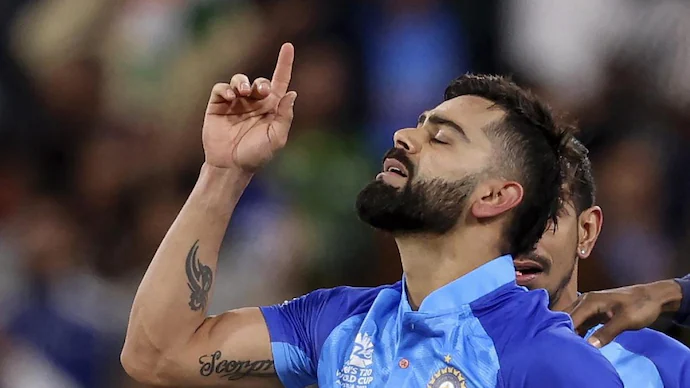 At the Melbourne Cricket Ground (also known as the MCG) on Sunday, Virat Kohli redressed an earlier miscommunication by smashing an incredible half-century. After the early departure of K.L. Rahul from the batting lineup, Virat Kohli and Hardik Pandya put together a strong partnership that enabled India to remain in the match.
In doing so, the 33-year-old surpassed Rohit Sharma to become the player with the highest runs scored in the history of Twenty20 Internationals.
On Sunday, at the Melbourne Cricket Ground, India prevailed against Pakistan by four wickets in a nail-biting contest that went down to the final ball. Virat Kohli made 82 runs without being dismissed off of 53 balls.
Not only did Kohli's knock allow India to get off to a winning start in their T20 World Cup campaign, but it also allowed him to break a significant World Cup record held by Sachin Tendulkar. Kohli and Tendulkar had 23 fifty-plus scores apiece in white-ball tournaments of the ICC before the game against Pakistan, but Kohli's knock on Sunday aided him. Tendulkar had 23 fifty-plus scores in white-ball competitions of the ICC.
Kohli has scored 3,794 runs at an average of 51.97 during the course of the shortest format, which includes 110 outings and 102 innings. In this style, there have been one century and 34 half-centuries scored by the batter, with the highest score ever achieved being 122 not out. Following him in the T20I run rankings are fellow countryman and captain Rohit Sharma (3,741), seasoned batsman Martin Guptill (3,531) from New Zealand, renowned batsman Babar Azam (3,231) from Pakistan, and seasoned batsman Paul Stirling from Ireland (3,119).
Virat, who just just became the first Indian cricketer and the second batsman worldwide to play 100 matches across all three formats of the game, concluded the Asia Cup 2022 with a total of 276 runs from five matches played.
In addition to the hundred he scored on Thursday, he also had two fifty-point scores during the event. In the Twenty20 International version of the Asia Cup, Virat is the only batter to have ever scored a century.