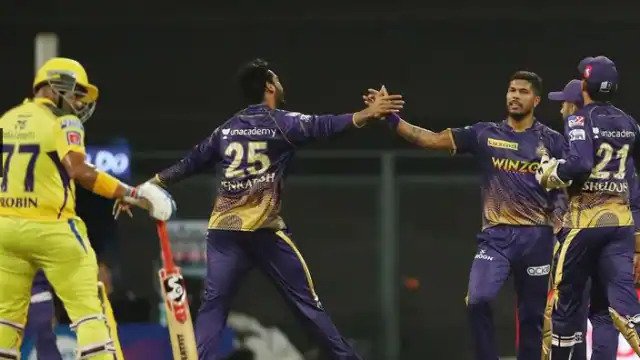 The first match of the 15th season of IPL is being played at the Wankhede Stadium in Mumbai between the defending champions Chennai Super Kings and last year's runners-up team Kolkata Knight Riders. In this match, KKR captain Shreyas Iyer won the toss and decided to bowl first. Batting first, CSK scored 81 runs for the loss of 5 wickets in 16 overs.
CSK's innings
CSK did not have a good start and Rituraj Gaikwad was caught by Nitish Rana on the ball of Umesh Yadav without opening the account. The second wicket of this team fell in the form of Kane and he was caught out on the ball of Umesh Yadav after scoring 3 runs. Robin Uthappa scored 28 runs for the team and was stumped, while Ambati Rayudu was run out after scoring 15 runs. Shivam Dube also could not play a good inning for the team and scored 3 runs and was caught by Sunil Narine on Russell's ball.
Mumbai's Wankhede Stadium has been very good for CSK in the last season where this team won four out of five matches, while KKR have played a total of 11 matches at this stadium, out of which they have lost 10 matches. On the other hand, if we talk about the matches of both the teams in IPL, CSK has won 17 matches against KKR, while KKR has won 8 matches against CSK so far. That is, in statistics, CSK seems to be completely dominating KKR.
Talking about the current teams of CSK and KKR, now both the teams are looking good on paper. While CSK has Kanve, Rituraj, Uthappa, Rayudu, and Dhoni as batsmen, there is no dearth of all-rounders in this team. Captain Ravindra Jadeja himself, Shivam Dube, Dwayne Bravo are all great all-rounders. Although Deepak Chahar will be missed by the team which will hardly play in the first match, but there are bowlers like Jordan, Milne, Tushar in the bowling. In Kolkata's team, there are batsmen like Venkatesh Iyer, Rahane, Shreyas Iyer, Nitish Ranaas Billings and all-rounders like Russell. The bowling of the team is looking much stronger than Naren and Varun Chakraborty.