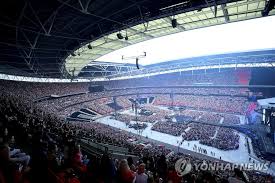 India will play the first match against South Africa on Wednesday in the World Cup. In the first week, the World Cup has got a lot of excitement from the two bustling matches. On Sunday afternoon London's roads are not so busy, as often as they are. Apart from the area near the stadium, World Cup banners and advertisements will not be seen anywhere. But many Asian people will talk about cricket.

Southall is a small Punjab
India is yet to play the first match. As soon as the team matches, you will see how much change in the World Cup. India-Pakistan match is in Manchester. It does not matter who wins, but the discussion of this match is quite a lot. Many Indians live in some areas of London. You can come to Southhall, in fact, it is a small Punjab. There are many Tamils ​​in Tutting, half-Gujrati will be found in Wembley and many places. Cricket keeps them tied On cricket match, key rings, T-shirts and Indian players' coffee mugs are seen selling in these areas.