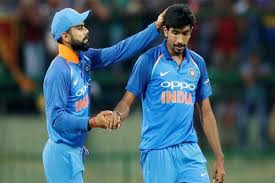 Team India will start its campaign from Wednesday to the World Cup. His first match will be against South Africa at Rose Bowl Stadium in Southampton. This will be the fourth ODI between England and England. Team India has managed to win 2 out of 3 previous ODIs.

South Africa won the last match against India on 15 May 1999, on the England field. In the match at Hove, he defeated India by 16 runs. Team India has won both the matches after that. Since 2012, India has defeated South Africa at the 5 different ICC events. These are the events, 2012 and 2014 T-20 World Cup, 2013 and 2017 Champions Trophy and 2015 World Cup.
South Africa beat India once in World Cup
Team India has so far won the World Cup twice, whereas once played the finals and 3 times in the semifinals. Once Super Six has reached. South Africa has reached the World Cup semi-finals 4 times so far, but all have lost. However, in his tournament, the record against India is better. Both have played 4 matches against each other in the World Cup so far. South Africa has been successful in winning 3 of these.
In the last 10 ODIs, India has a 70% success rate against South Africa
Talk about an overhaul record, so far 83 ODIs have been played between the two teams. Of these, India has won 34 and South Africa 46. The result of three one-day matches did not come out. However, out of the last 10 ODIs, Team India has managed to win.
Team India not losing 12 years against South Africa on neutral grounds
On neutral grounds, India has won 9 out of 21 against South Africa, while in 11 they had to face defeat. The team lost to South Africa in 2007 for the last time at Team India Neutral Grounds. Since then, he played 5 ODIs on such grounds and won all
Jasprit Bumrah number one in Death Overs
This is the 50th ODI of Jaspreet Bumrah. He debuted in ODIs against Australia in Sydney on January 23, 2016. Since then, he has taken 44 wickets in the death overs. Since Bumrah's debut, no bowler has taken so many wickets in the death overs.
Pitch Mood: Southampton's Edge Bowl stadium does not have green grass on the pitch. It is suited for batting. The toss winning team can choose to bat. The Meteorological Department has indicated signs of cloudburst and drizzling in its prediction.