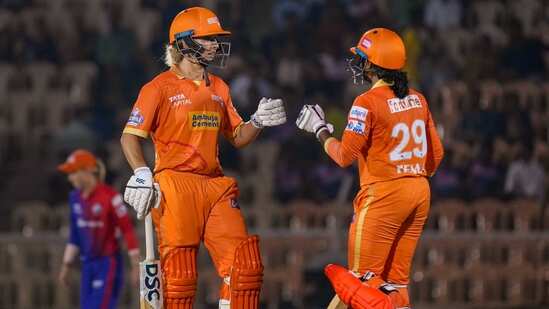 The Gujarat Giants edged past the Delhi Capitals in a thrilling Women's Premier League (WPL) 2023 match, winning by 11 runs at the iconic Brabourne Stadium in Mumbai. The closely fought contest saw both teams put up a spirited performance, leaving fans on the edge of their seats.
The Giants, batting first, set a competitive target for the Delhi Capitals. Stellar performances from the Giants' batters, backed by solid teamwork, resulted in a respectable total on the scoreboard. The Delhi Capitals, determined to chase down the target, showcased their batting prowess with some fine strokes and impressive partnerships.
However, the Gujarat Giants' bowlers proved too strong for the Capitals' batters, consistently taking wickets and maintaining pressure throughout the innings. As the match progressed, the excitement only grew, with the game hanging in the balance until the final overs.
In the end, the Giants' disciplined bowling and agile fielding were enough to restrict the Capitals, who fell short by 11 runs. The victory was a testament to the Giants' resilience and ability to keep their nerve in high-pressure situations.
The match, part of the ongoing WPL 2023, drew a large crowd of enthusiastic cricket fans to the Brabourne Stadium. The event has been gaining traction and support, highlighting the growing popularity of women's cricket in India and around the world.
This thrilling contest between the Delhi Capitals and the Gujarat Giants has set the stage for more intense battles in the coming weeks, as the WPL 2023 continues to entertain cricket fans around the globe.