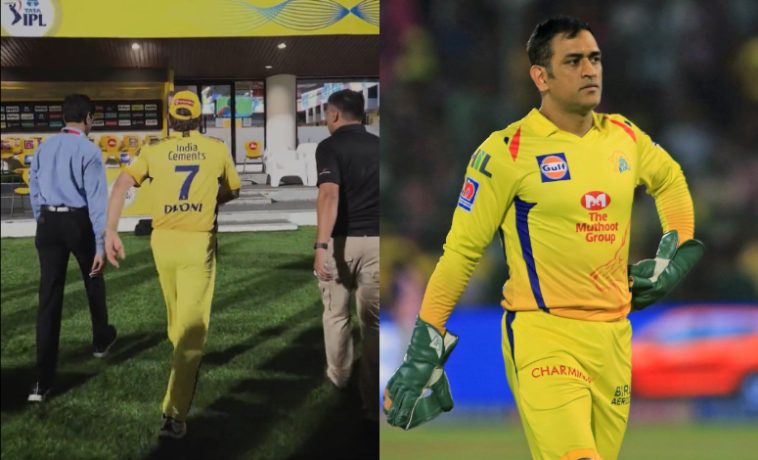 In a display of unwavering courage and determination, Chennai Super Kings (CSK) captain MS Dhoni defied a knee injury to take his team to the brink of victory against the Rajasthan Royals (RR) in the Indian Premier League (IPL) 2023 match on Wednesday. The veteran cricketer, who is no stranger to battling adversity, scored a remarkable 17-ball 32, only to fall just short of securing the win.
A video that surfaced on social media showing Dhoni limping as he returned to the dressing room has struck a chord with fans, eliciting an outpouring of support and admiration for the "Thala." The sight of the injured icon has left many heartbroken, but even more inspired by his unwavering commitment to the game and his team.
Fans on social media shared their reactions, with one tweet stating, "Struggling with a knee injury, still giving his best for fans. This man is built different. Take care MS." Another user expressed concern for Dhoni's well-being, hoping he would be able to manage the injury during the upcoming matches.
CSK head coach Stephen Fleming confirmed Dhoni's knee injury during the post-match press conference, while also reassuring fans of the captain's professionalism and dedication to fitness. Fleming expressed confidence in Dhoni's ability to manage his injury and continue leading the team effectively.
Despite the injury, Dhoni, alongside teammate Ravindra Jadeja, almost pulled off a miraculous win, needing 21 runs off the last over. However, the match ended with CSK falling just four runs short, as the team finished at 172/6. In a bittersweet twist, this match marked Dhoni's 200th game for CSK, with fans and teammates alike left in awe of his unwavering spirit and commitment.
As the IPL 2023 season unfolds, fans will be closely following Dhoni's journey, hoping for a swift recovery and many more awe-inspiring moments from the legendary cricketer.