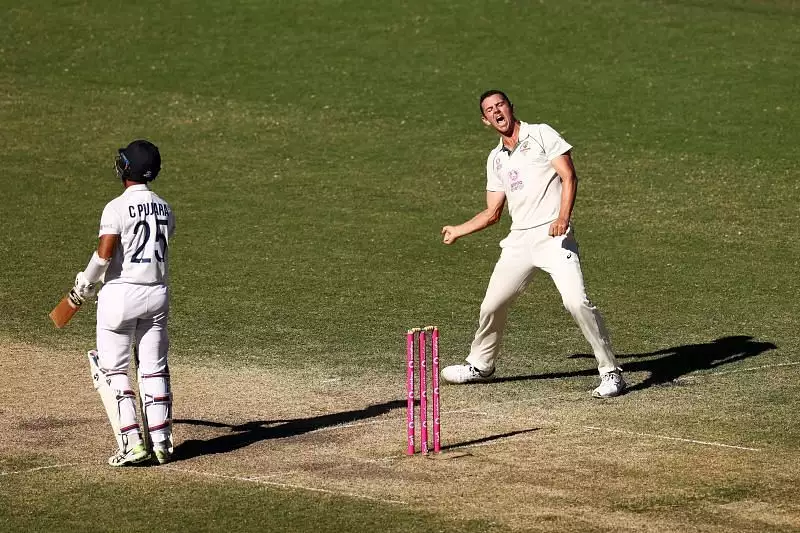 Cheteshwar Pujara, the unyielding Indian batsman, has long been a thorn in the side of the Australian cricket team. Now, Australian pacer Josh Hazlewood has come forward to discuss the love-hate relationship that has developed between the Aussie players and Pujara over the years.
In a candid interview, Hazlewood admitted that while Australians might "love to hate" Pujara, they also have a deep respect for the 35-year-old batsman's extraordinary talent and ability to withstand pressure. The right-handed batsman has consistently proven to be a tough opponent, known for his unwavering focus and impenetrable defense, earning him the nickname "India's Wall."
Pujara's unique playing style has long frustrated the Australian bowlers. He is renowned for wearing down his opponents, facing an enormous number of deliveries while maintaining his wicket, and slowly building a solid innings. This approach has often left the Australian team exhausted and searching for answers.
Hazlewood, who has had numerous on-field battles with Pujara, reflected on the challenges of facing the Indian cricketer. The Australian fast bowler praised Pujara's concentration and patience, acknowledging that while he might not be the most aggressive player, his ability to stick around and build an innings is unparalleled.
The admiration for Pujara is not limited to his skills on the field; Hazlewood also highlighted the respect that the Australian team has for him off the pitch. He described Pujara as a "fantastic player" and a "great person," emphasizing the sportsmanship that the Indian cricketer consistently displays.
As the rivalry between India and Australia continues to grow, fans can expect more exciting encounters between the two teams. With players like Cheteshwar Pujara and Josh Hazlewood on the field, the competition will surely remain fierce and highly entertaining.
In conclusion, the love-hate relationship between Australians and Cheteshwar Pujara is a testament to the respect and admiration the cricketer has earned from his opponents. As Hazlewood's revelations show, Pujara has not only made an impact on the cricket pitch, but he has also left an indelible mark on the hearts and minds of cricket lovers around the world.