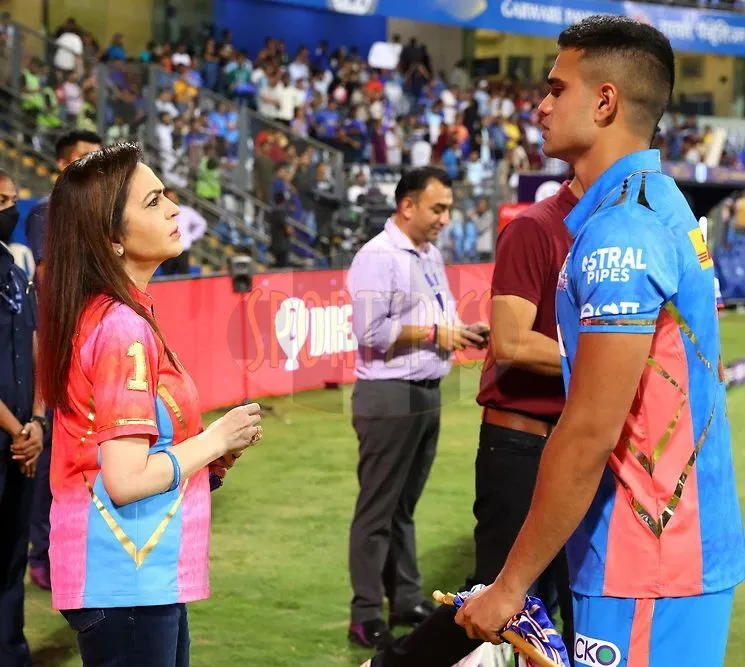 The Tendulkar family celebrated a milestone as Arjun Tendulkar, son of legendary cricketer Sachin Tendulkar, made his Indian Premier League (IPL) debut for the Mumbai Indians on Sunday. The team faced off against the Kolkata Knight Riders, with Arjun delivering two overs and contributing to the Mumbai Indians' five-wicket victory.
Arjun has been part of the Mumbai Indians squad since 2021, but Sunday marked his first appearance on the field. Team captain Rohit Sharma presented Arjun with his maiden cap, and well-wishers from around the globe expressed their congratulations for the continuation of the Tendulkar legacy.
Reflecting on his IPL debut, Arjun expressed his gratitude and excitement in a video posted on the IPL's official Twitter account. "It was a great moment. It's always special to play for the team I have supported since 2008. It was very nice to get the cap from the captain of MI and the Indian team," he said.
Meanwhile, Sachin Tendulkar, who watched the match from the dressing room, shared his emotions and pride in seeing his son represent the Mumbai Indians. In a surprising revelation, the cricket icon admitted he had never watched his son play before. Sachin explained that he had always wanted Arjun to have the freedom to express himself on the field without feeling pressured by his father's presence.
As the first father and son duo to play in the IPL, Sachin made his debut with the Mumbai Indians in the league's inaugural season in 2008, playing for the team until 2013. Now, Arjun carries on the Tendulkar family tradition with his own debut for the same franchise.